As a home care provider, we want you to trust us with your personal and health needs. Know who we are and our aim.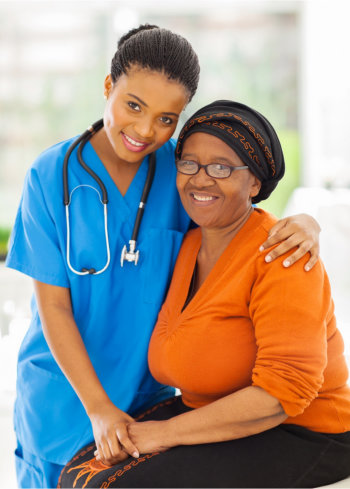 Who We Are
We proudly provide non-medical home care services to individuals with disabilities, injuries, difficulties with mobility, or illnesses. We are composed of highly trained and competent staff members who are dedicated and experts in delivering home care services in the comfort of our client's home.
Through our personalized care plan, we can give you the needed care services that are all intended to cater to your unique personal and health needs. With us, we ensure around-the-clock services and supervision to help you achieve optimum health and wellness.
Mission Statement
It is our mission to provide our clients with exceptional home care services and achieve the optimum wellness they deserve. Our mission and vision will be achieved through the application of our core values, which include:
Comfort – keeping our client's health, safety, quality of life and well-being central in the design and delivery of services.
Affection- treating and interacting with our clients with love, dignity, compassion, and empathy.
Respect- showing respect for all cultures, religions, ethnicity, sexual orientation, ages, gender and disabilities.
Integrity- treating our clients with honesty and integrity while recognizing and maintaining confidentiality of client information.
Nurture- nurturing our clients for their optimum independence, security and privacy;
Generosity- provide our clients unselfish good-hearted staff members who are generous with their care and compassion.

Witnessed the staff and even the owner of this company help out a Vietnam Veteran to get additional VA benefits he was not aware of. Helped to get him out of a bad living environment and reconnect with family. Caring for people is truly their passion. Marc T.
"Professional and loving care is provided by this great team. A senior should never have to leave the house they love if they can get great care like CLT in there!" Elizabeth A.
Connie is very attentive to customer needs and employee needs. She balances both to make CLT a great asset to our business community. Angela W.
Connie and Anne have taken really good care of my SO. I had to leave town for a month, due to a family emergency, and they came 3x per week to spend time with him. He needed help with showering, meals and tidying up. They did a great job, and I felt so much better leaving him in their good hands. Alice W.
CLT at Home is a great resource for families needing well trained caregivers. Connie and Anne do a complete assessment of the client's needs before assigning a caregiver, their knowledge and experience is invaluable. I felt so much better prepared to care for my husband at home with their assistance. Needing home health care can be a stressful time for families, with CLT's help it is feels much more manageable. Bonnie M.
Let's face it, it takes a team of exceptional people to care for our loved ones. It is my pleasure to write a testimonial for CLT. Connie, Anne and their amazing Caregivers were essential in helping my mom and me. I am mom's primary family member and I live two hours away from her. I needed help! We enlisted their services when Mom was transitioning from a rehabilitation facility to her home. Anne came to the rehab center, was patient to listen to our needs and helpful with practical suggestions for at-home care. Connie developed a relationship with Mom and me allowing her to choose the best Caregiver to match Mom's needs and temperament. I had great peace of mind knowing CLT was on Mom's team. If a challenge came to the fore, Connie, Anne or the office staff were quick to provide solutions. On more than one occasion, Mom suffered a fall requiring extra care. CLT expertly provided. When Mom required more time, she got it. If a particular Caregiver was better suited to Mom's personality, Connie was endlessly patient to bring the new Caregiver on board. CLT attracts amazing CNA's. Shado, Natalya and Diana are just three excellent examples. These special individuals regularly provided care above and beyond expectations. Each day they arrived with a cheerful "can do" attitude. They helped with physical therapy exercises, completed household chores and used gentle yet effective methods to lighten Mom's mood. My mom's life improved and so did mine! I highly recommend you welcome CLT to your family's team. Julie W.